Our research activity aims at developing, implementing and validating advanced and innovative models, methods and tools for computational fluid dynamics and thermal engineering simulation of the built environment.
A short description of the currently ongoing projects is given on this website. Would you be interested in collaborating with us on any of those topics? Please, do not hesitate to contact us.
Computational Fluid Dynamics for Quantitative Risk Assessment
Development of software tools for automatic architectural CAD files treatment for numerical simulation
Advanced atmospheric boundary layer modelling and simulation
Nature Based Strategies for Urban and Building Design
Integration of Computational Fluid Dynamics (CFD) simulation with Building Information Model (BIM)
Fire and Smoke Simulation
The
wind flow around buildings
can be simulated using Computational Fluid Dynamics. Once the values of
air velocity
,
pressure
,
temperature
and other relevant variables are calculated, the flow-induced
wind forces
can be determined, the influence of wind on
air conditioning systems
can be assessed and solutions for
fire protection
can be designed. Starting from the
meteorological data
, the expected wind conditions in
urban areas
can be determined and
pedestrian comfort and safety
are assessed from the analysis of wind speed.
Pollutant emission
and
dispersion
can also be simulated in order to predict both the environmental
impact of emissions emanating from buildings
and the effect of air pollution on the
air quality inside the building
. Applications of building Aerodynamics simulation with Computational Fluid Dynamics (CFD) to
Architecture, Engineering and Construction (AEC) design
include:
Wind load calculation
Pedestrian wind comfort and safety studies
Site planning
Outdoor air quality assessment
When combined with
temperature
,
humidity transport
and
solar radiation load
, the wind velocities can also be used to calculate the
UTCI
(Universal Thermal Comfort Index) and provide a sense of human
outdoor thermal comfort
.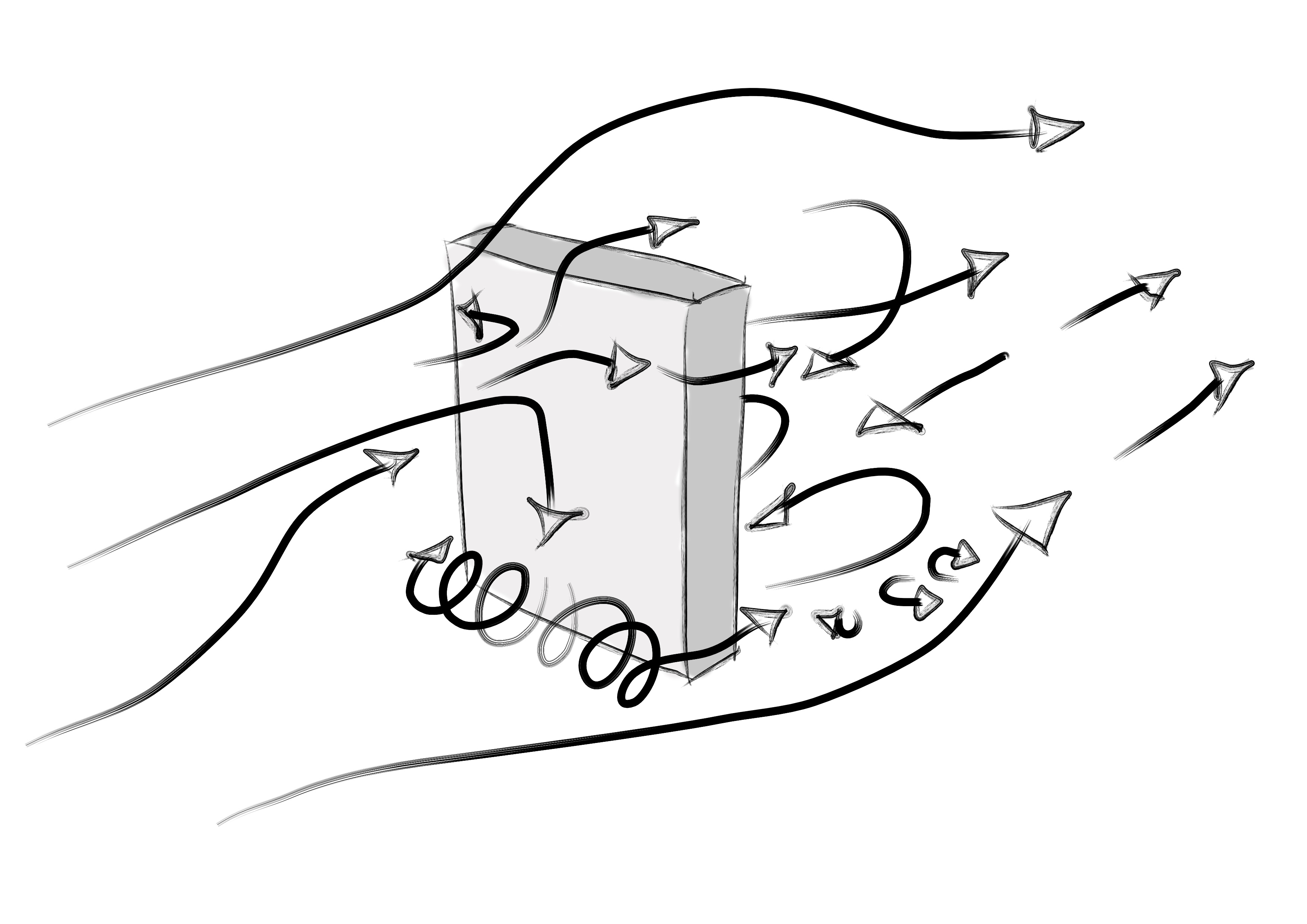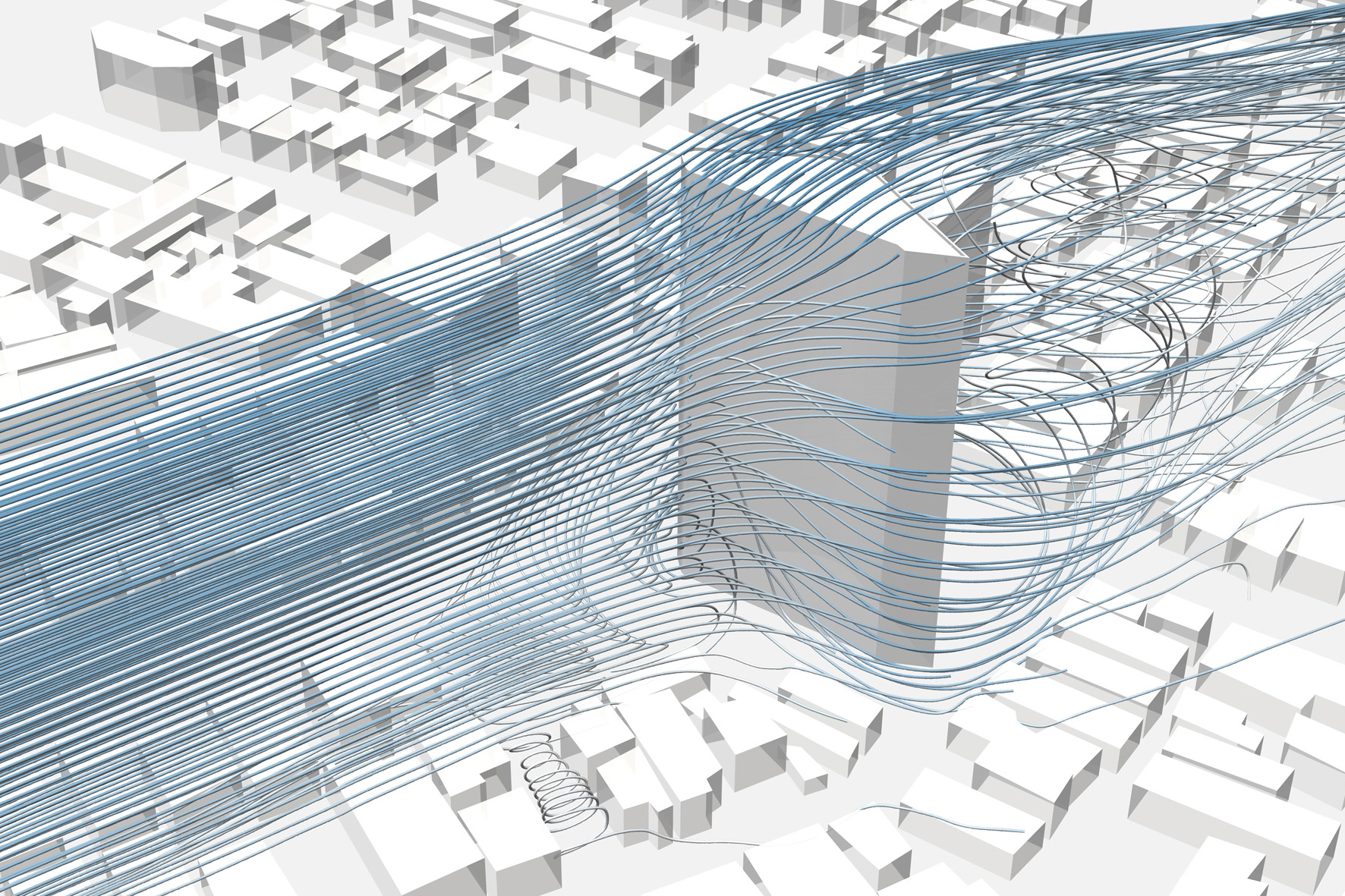 Simulation of airflow around buildings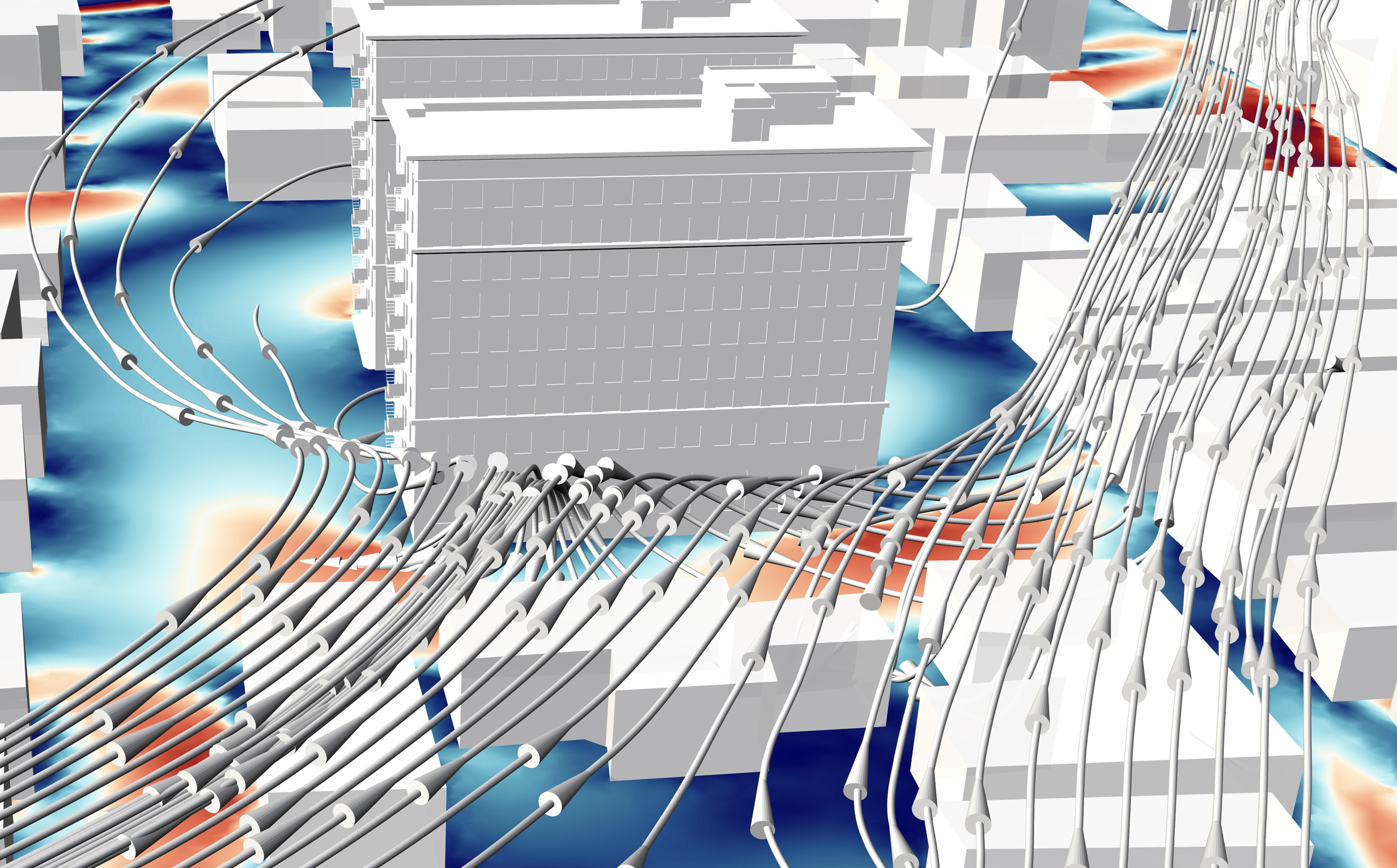 Wind comfort and safety
This study has been performed in collaboration with ULB University, Brussels (Belgium).
The goal of the project was to test advanced atmospheric boundary layer models on real-scale cases. CFD can ensure compliance with standards and criteria for wind comfort and safety in the built environment, such as the Lawson distress criteria and the Dutch NEN 8100 standard.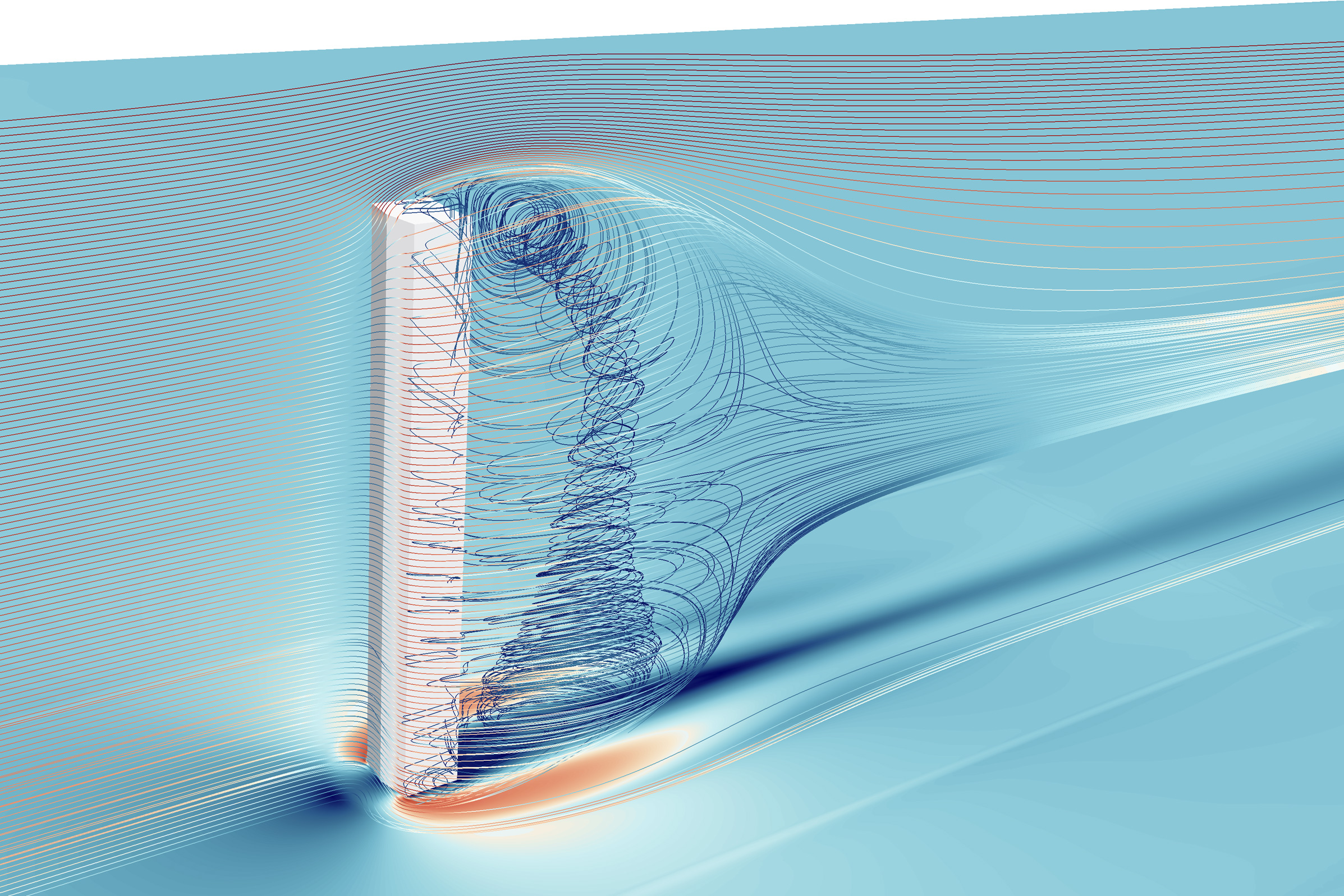 High-rise building aerodynamics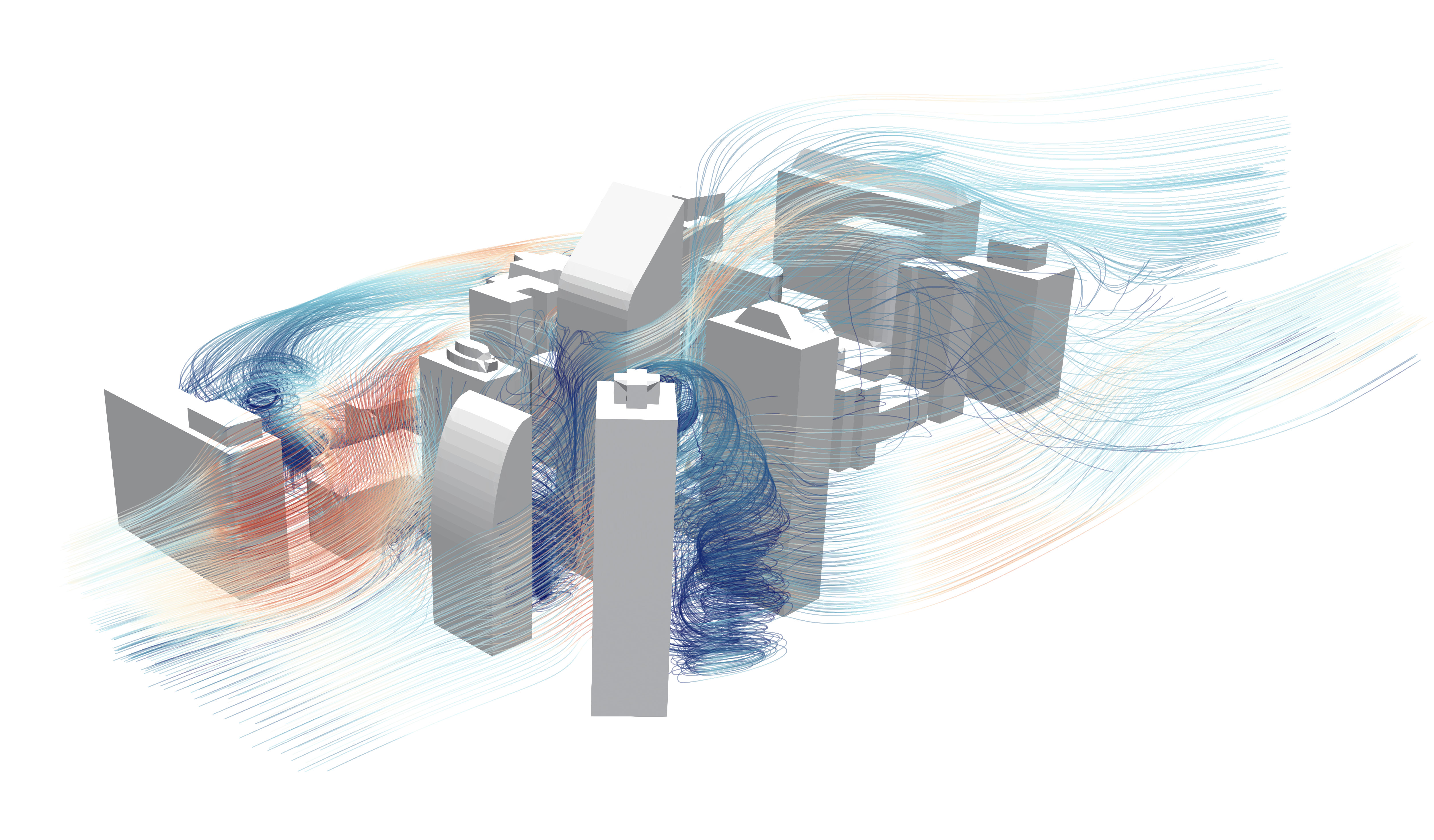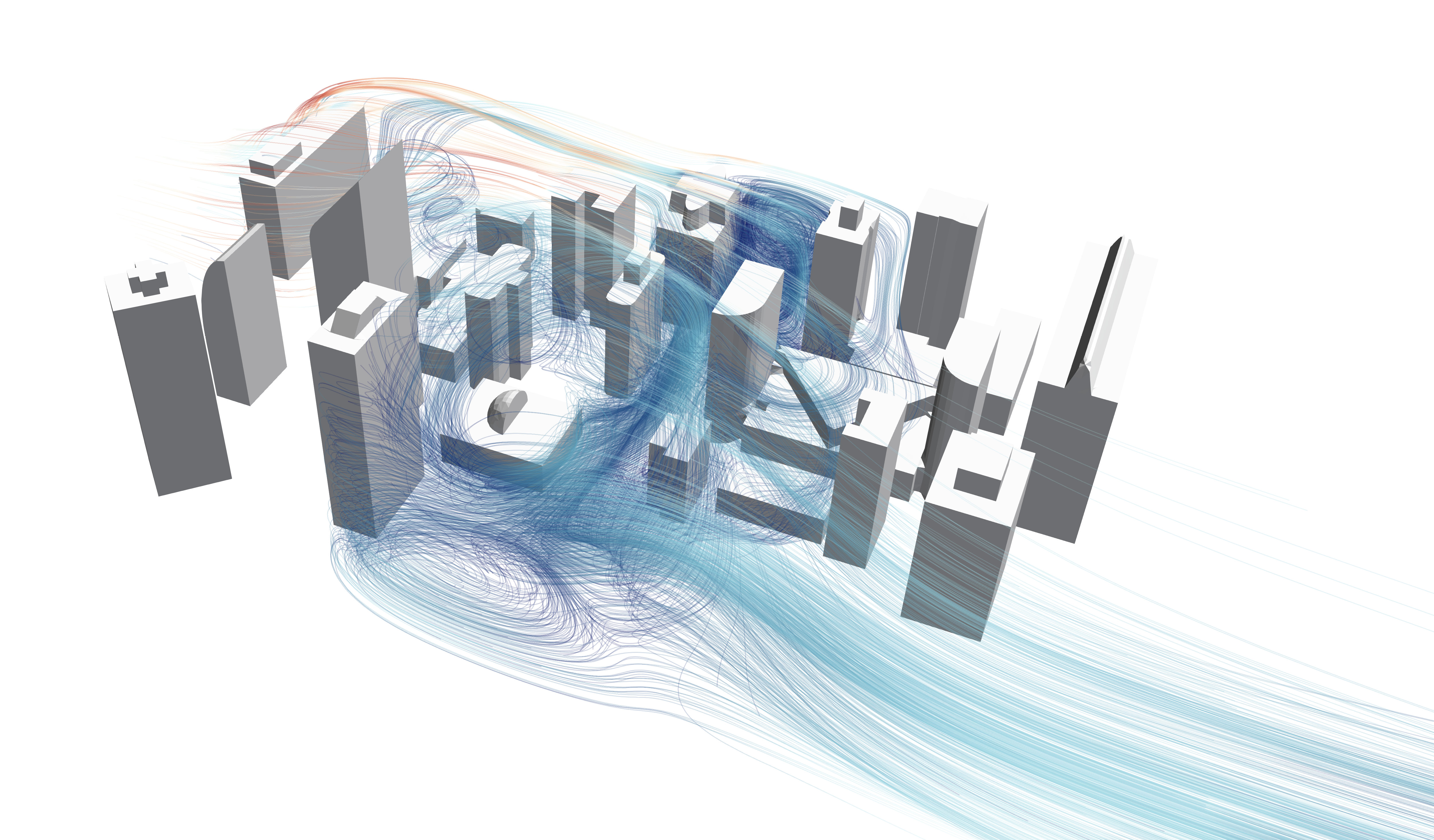 CFD analysis of complex fluid dynamic interaction of high-rise buildings
Urban areas shaped by a consistent number of buildings with different heights are subjected to unexpected moderate or intense airflow coming from improbable directions because of the complex fluid dynamic interaction of the wind flowing around the structures. Through an extensive CFD analysis BuildWind engineers can understand the fluid dynamic phenomena happening in a particular position and can suggest solutions to mitigate distress and guarantee safety. The study here reported has been performed to optimize the performance, calibrate the algorithms and ensure the expected high quality for these analyses.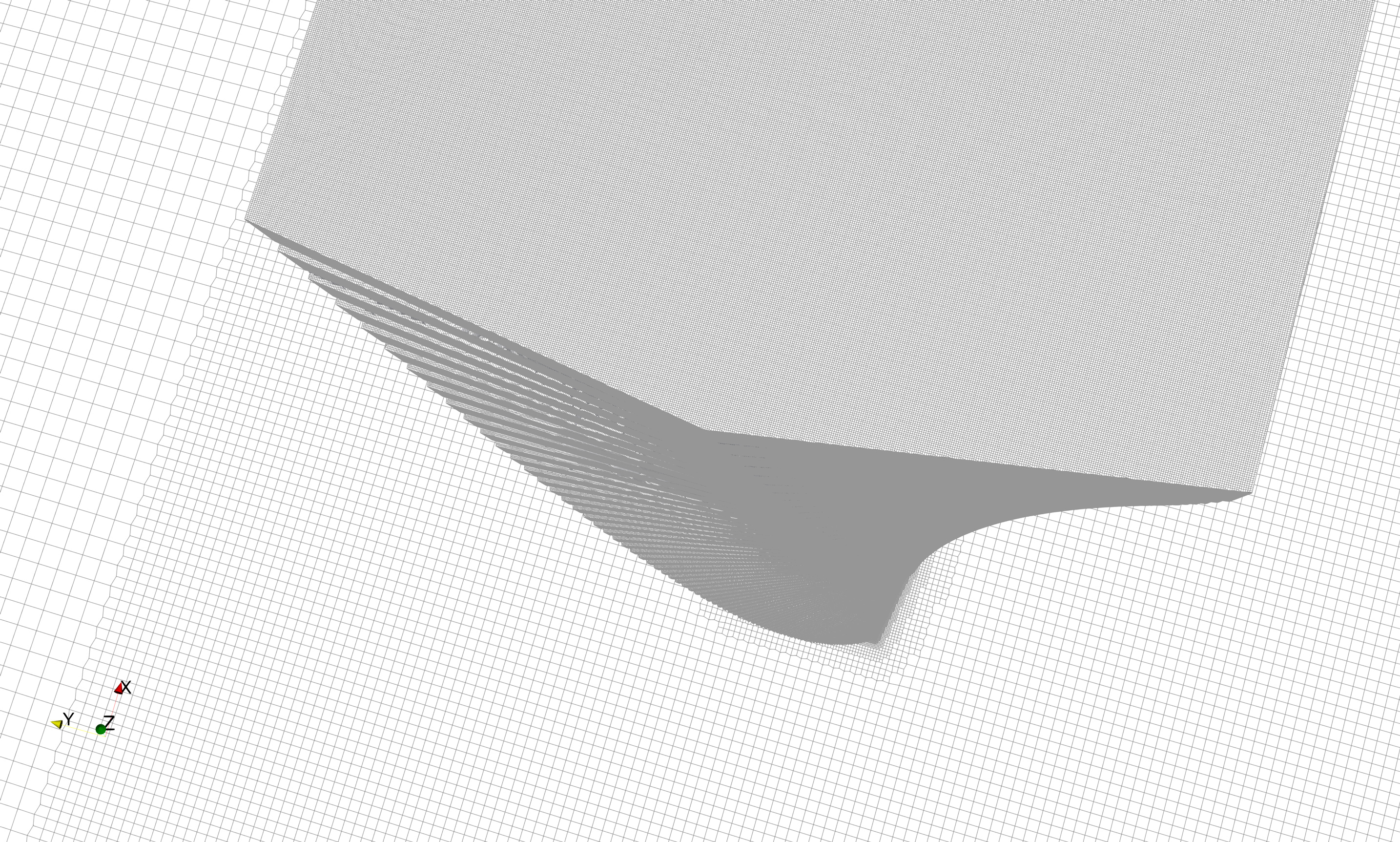 Twisted high-rise building aerodynamic design (ongoing)
The Council on Tall Buildings and Urban Habitat (CTBUH) defines a twisting building as one that progressively rotates its floor plates or its facade as it gains height. The aim of this project is to study the wind flow structures around a twisted high-rise building and the impact of design choices on it. Results from numerical simulations will be compared to those obtained for a non-twisted overlapped building that will be used as a reference.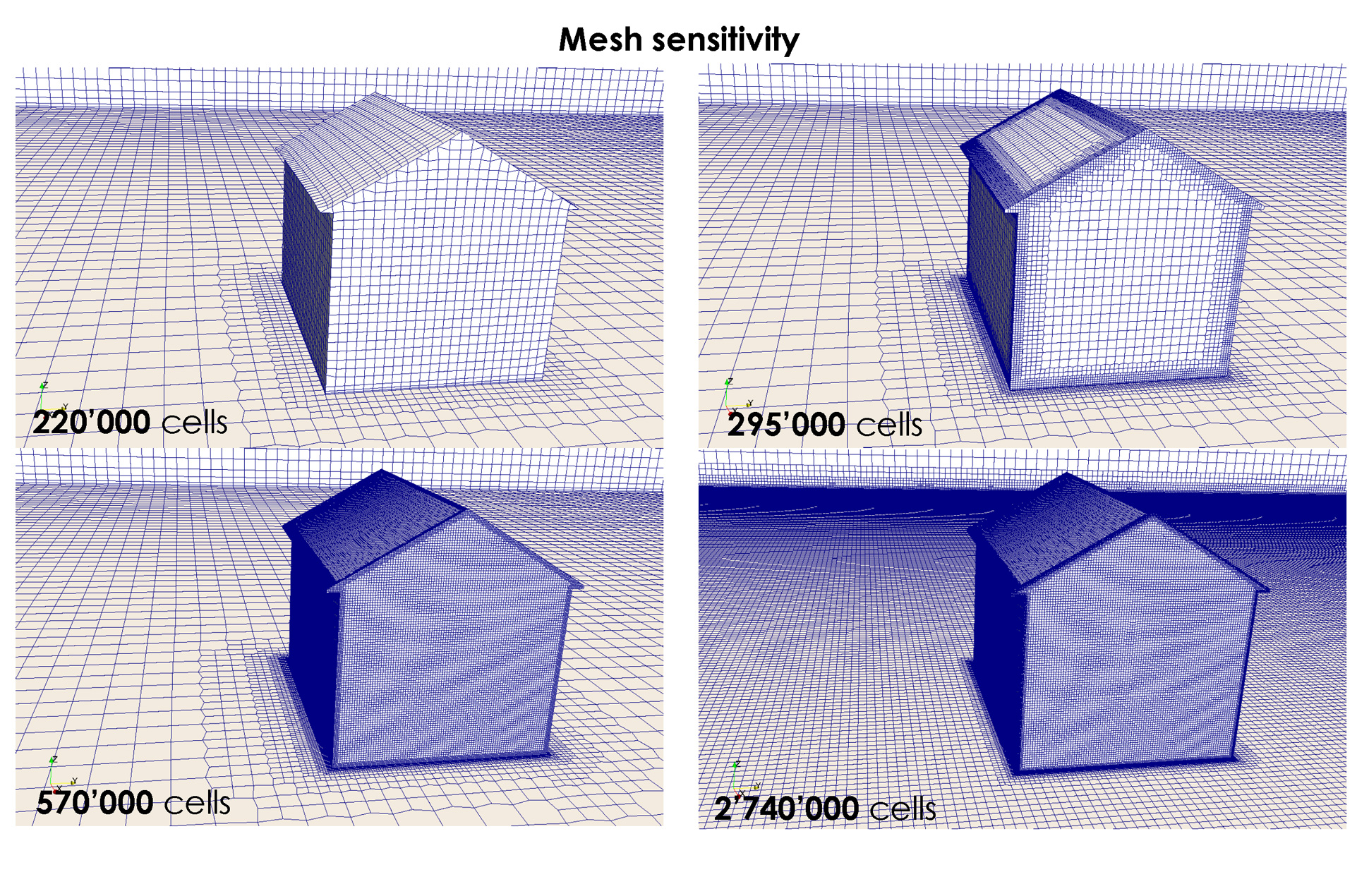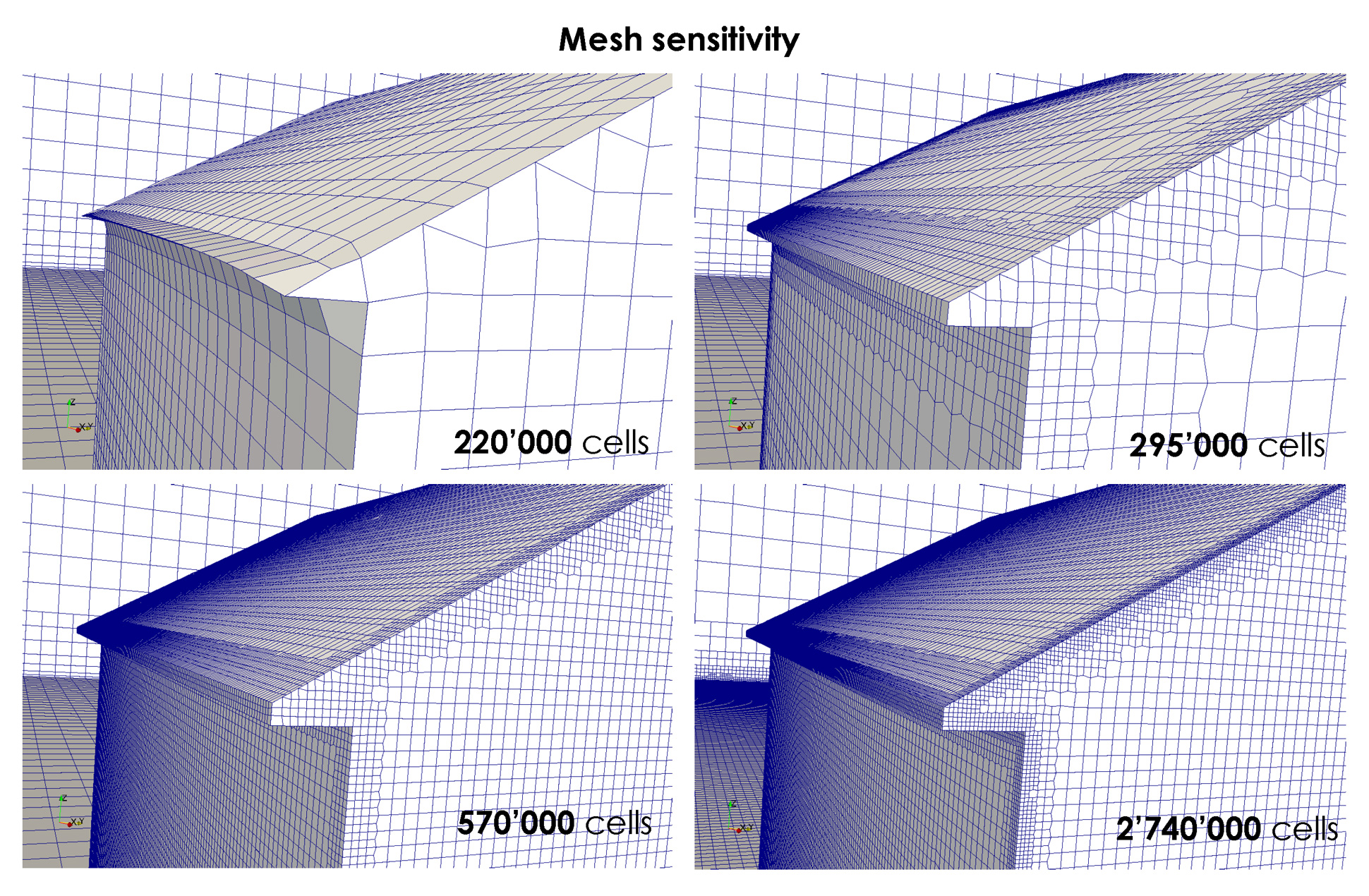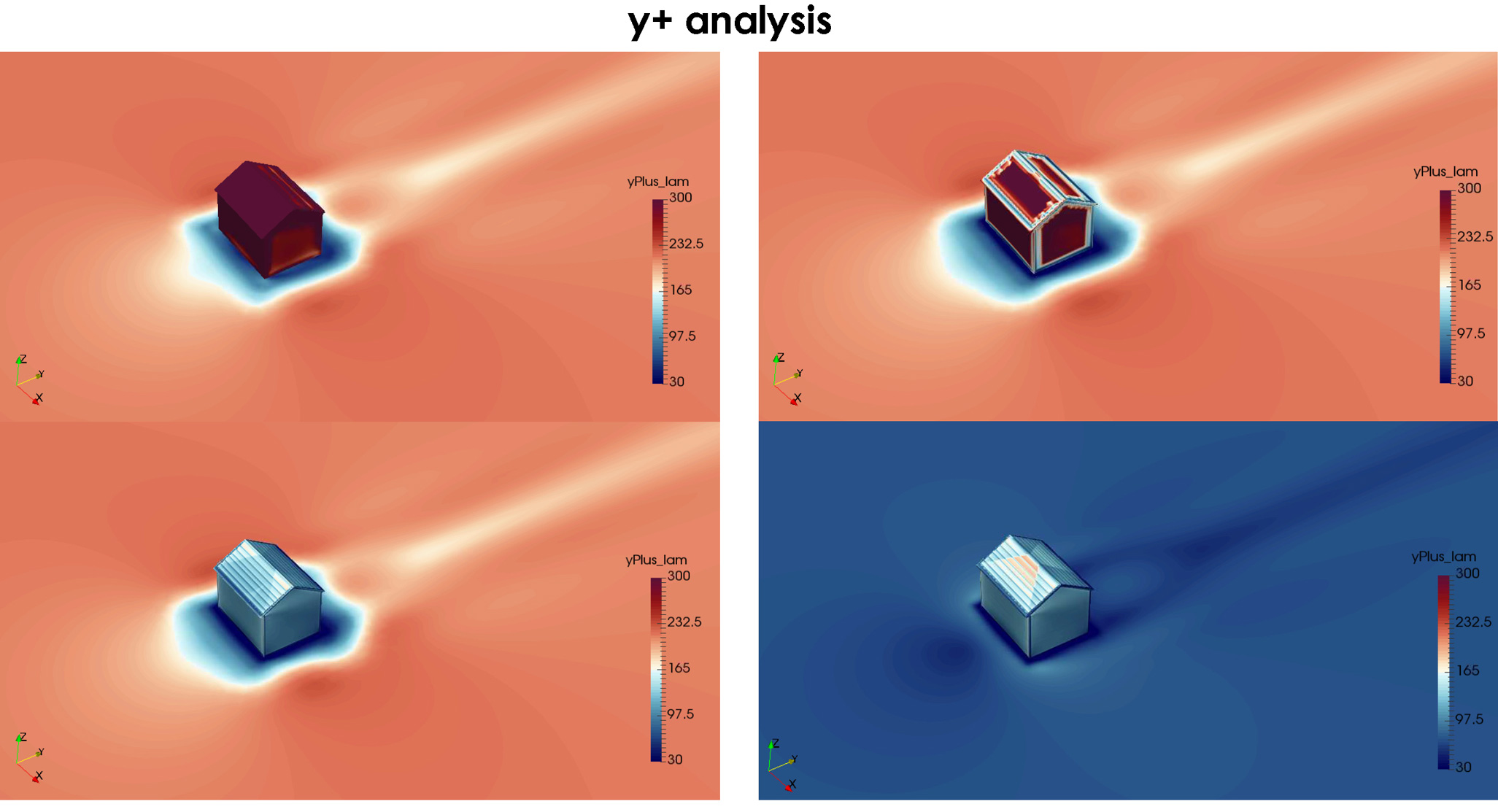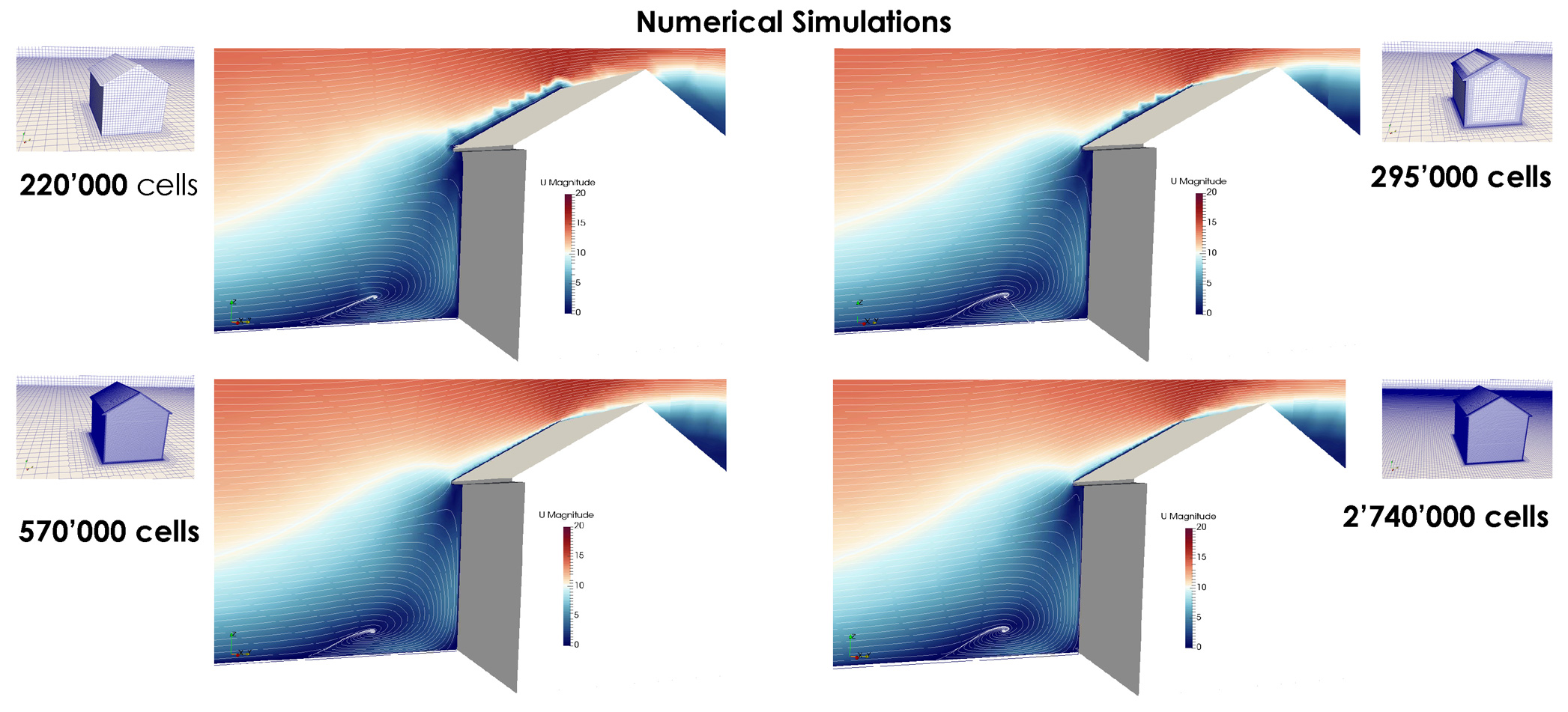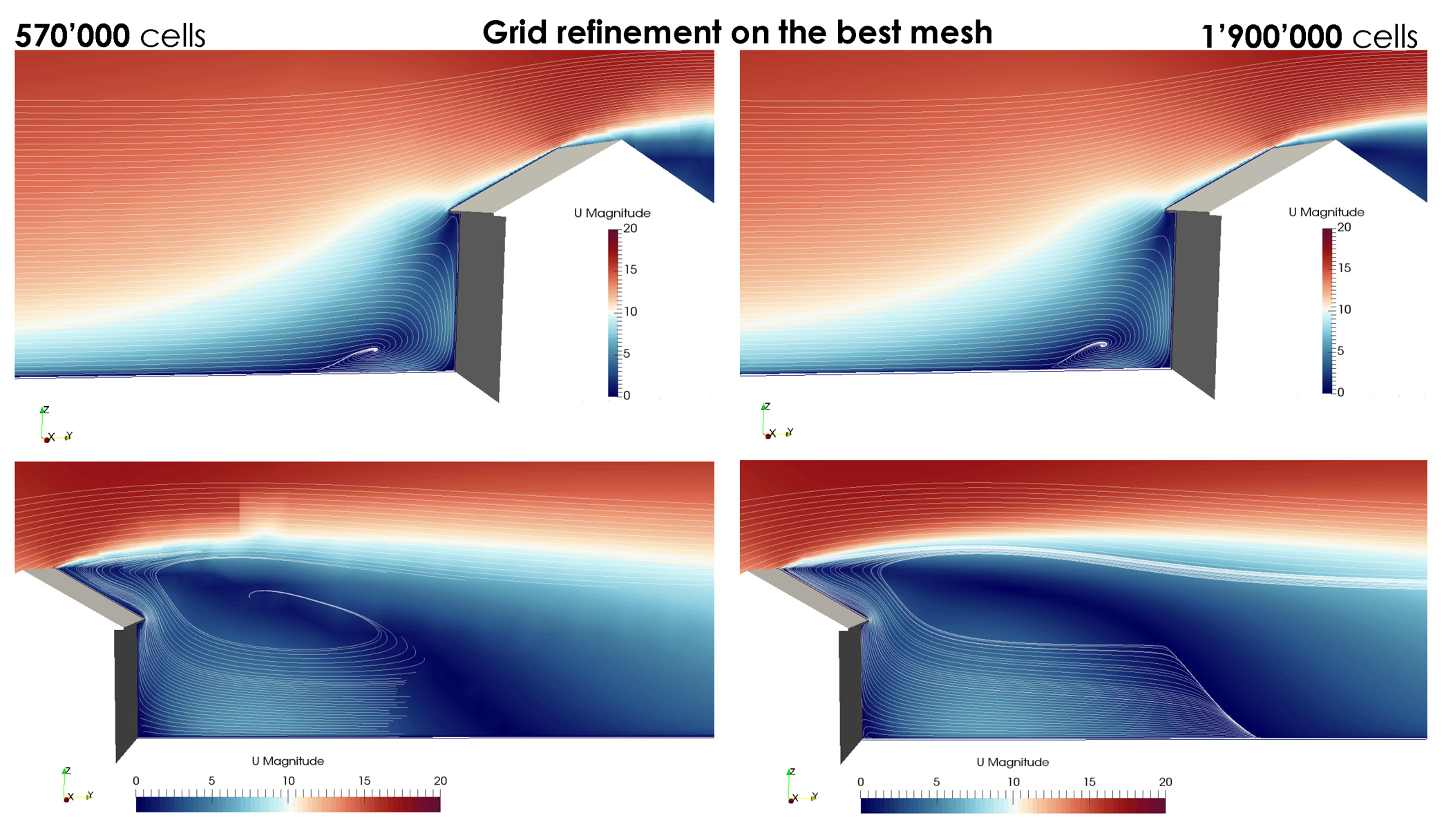 Mesh generation for building Aerodynamics: challenges, best practices and lessons learned
The aim of this work was to present reliable and efficient meshing techniques for architectural aerodynamics simulation, with a focus on common challenges and lessons learned from practice. A relatively simple geometry representing a detached house has been chosen in order to demonstrate typical difficult tasks and common errors. The results of this study have been presented at MASCOT2018 international conference in October 2018.
This project has been carried out by BuildWind engineers in collaboration with researchers from ULB University (Brussels, Belgium) and UMONS University (Mons, Belgium).
The performance of an HVAC system plays a fundamental role in occupants' experience of a building. Although guided by standards such as ASHRAE standards, current HVAC systems design is usually based on experience. This approach usually results in great uncertainties, especially when dealing with large spaces and non-standard configurations. Conversely, Computational Fluid Dynamics allows for the analysis of new and innovative HVAC systems, for which little or no experimental data are available. Simulations can take into account multiple air flow inlets and outlets, fans, thermal effects and solar radiation, humidity and contaminants transport. Using CFD, engineers can improve performance, develop tailor-made and non-standard solutions and eliminate redundant equipment in order to save costs.
CFD can simulate ventilation systems for complex and large buildings and infrastructures such as tunnels and offices, demonstrating what comfortable temperatures and air speeds can be maintained, and optimizing the overall strategy.
Occupant's thermal comfort and indoor air quality are the primary objectives of HVAC design for buildings and vehicles. Using simulation results designers can assess a variety of comfort criteria by predicting indoor environment conditions (air velocity, temperature, humidity, thermal radiation, pollutant concentration).
For high-performance HVAC systems such as radiant heating and cooling, underfloor air distribution (UFAD), and natural ventilation and hybrid systems that use both natural and mechanical conditioning of a building, it is critical to understand how the air flow and the surrounding environment impact the occupants' comfort. Computational Fluid Dynamics (CFD) simulations are the best available technique to investigate the performance of such systems.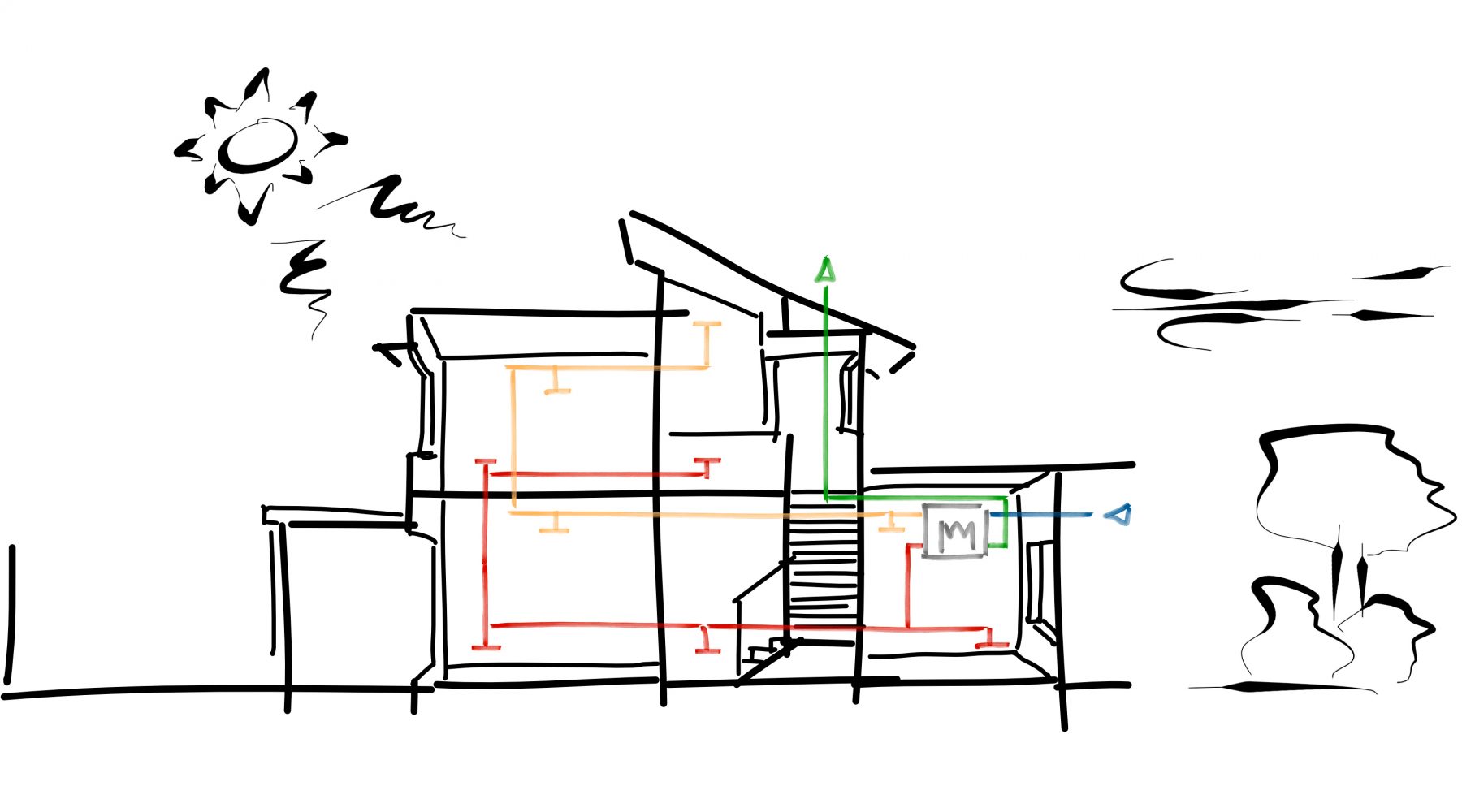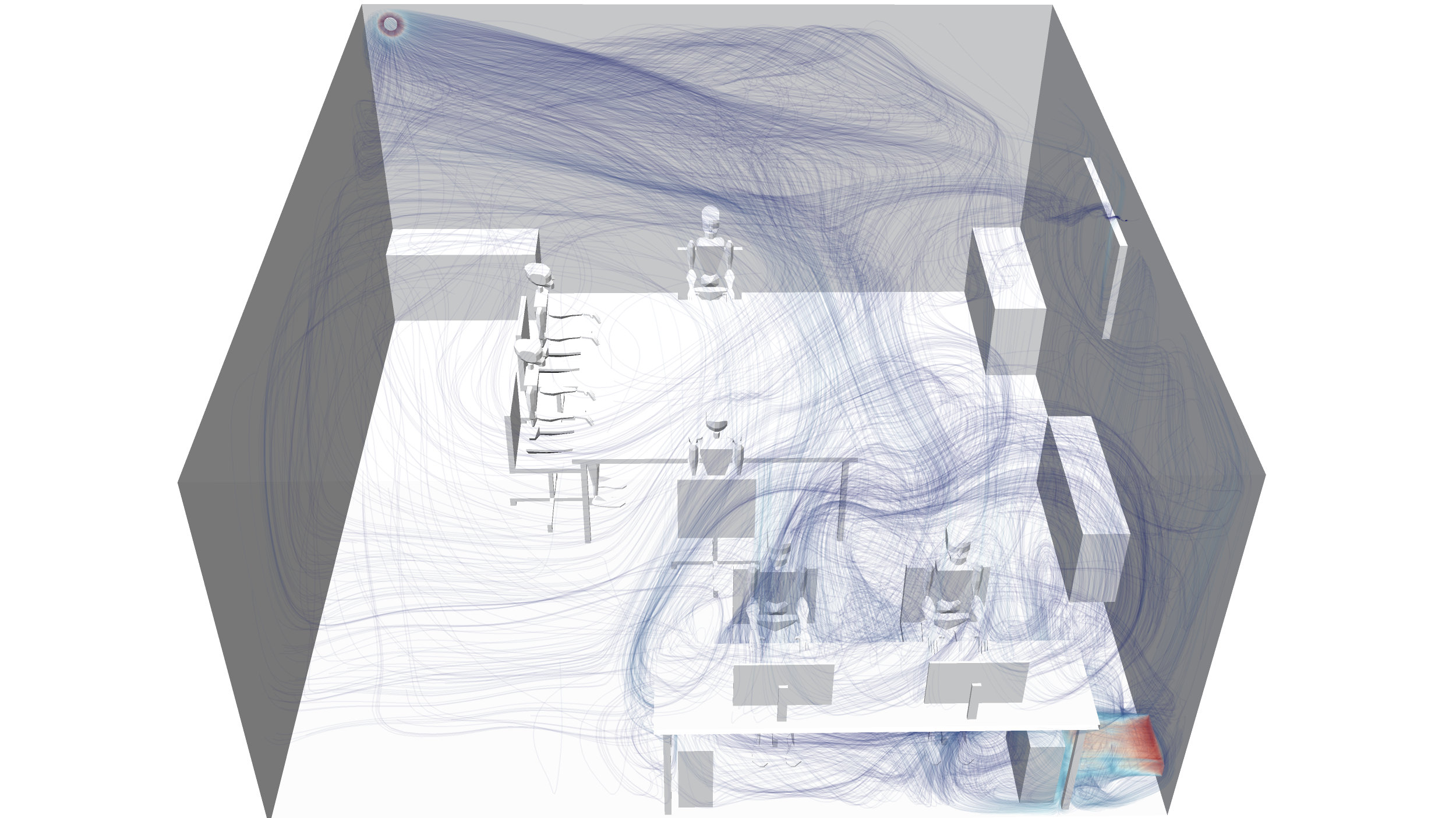 CFD modeling of a displacement ventilation system for an office space
Displacement ventilation is an indoor ventilation approach able to provide a cleaner indoor environment and with less energy consumption than conventional, mixing ventilation.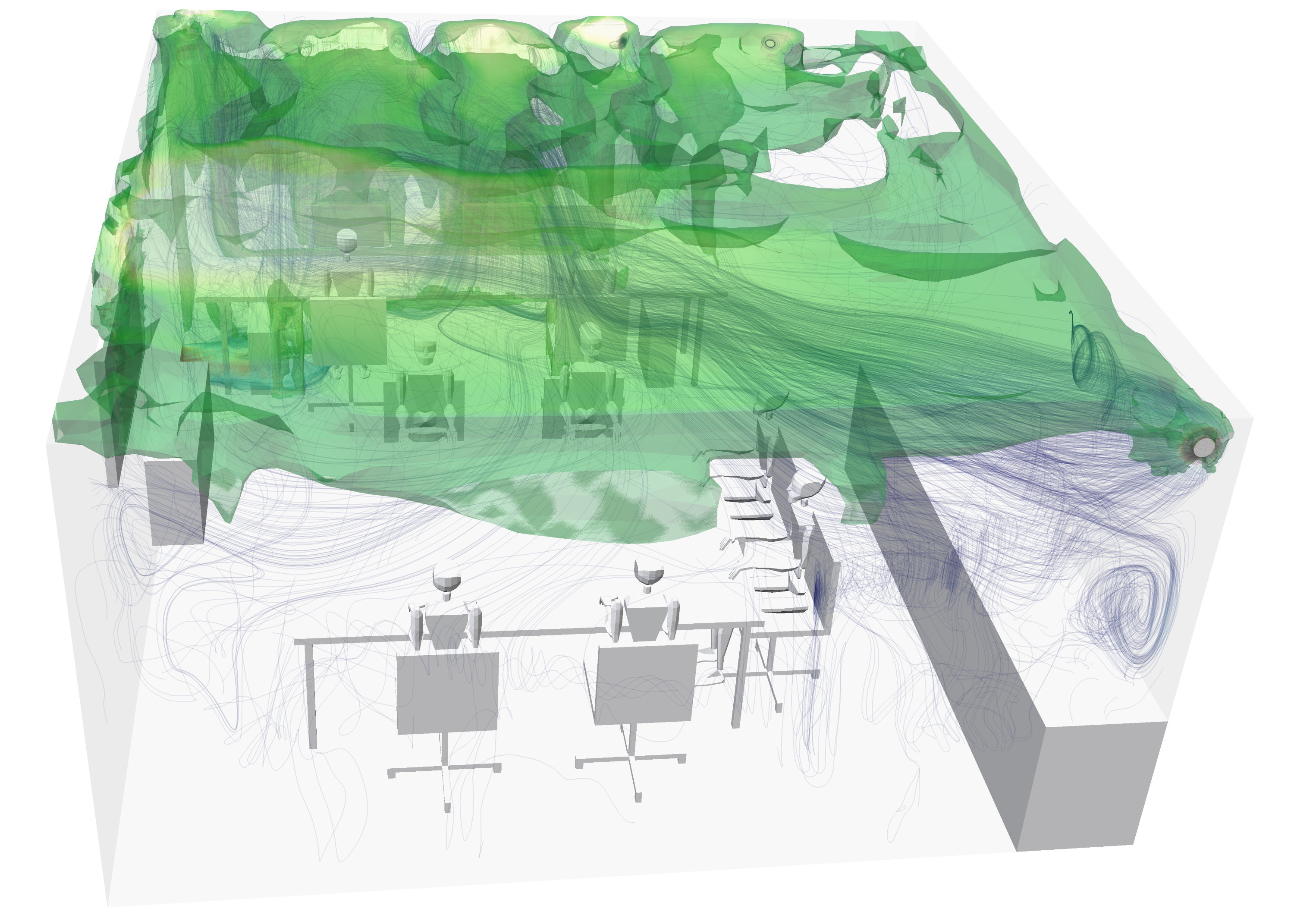 Office space indoor air quality assessment
CFD can ensure the compliance with standards and criteria for the indoor environmental quality, such as the ASHRAE 55 and the EN 15251 standards.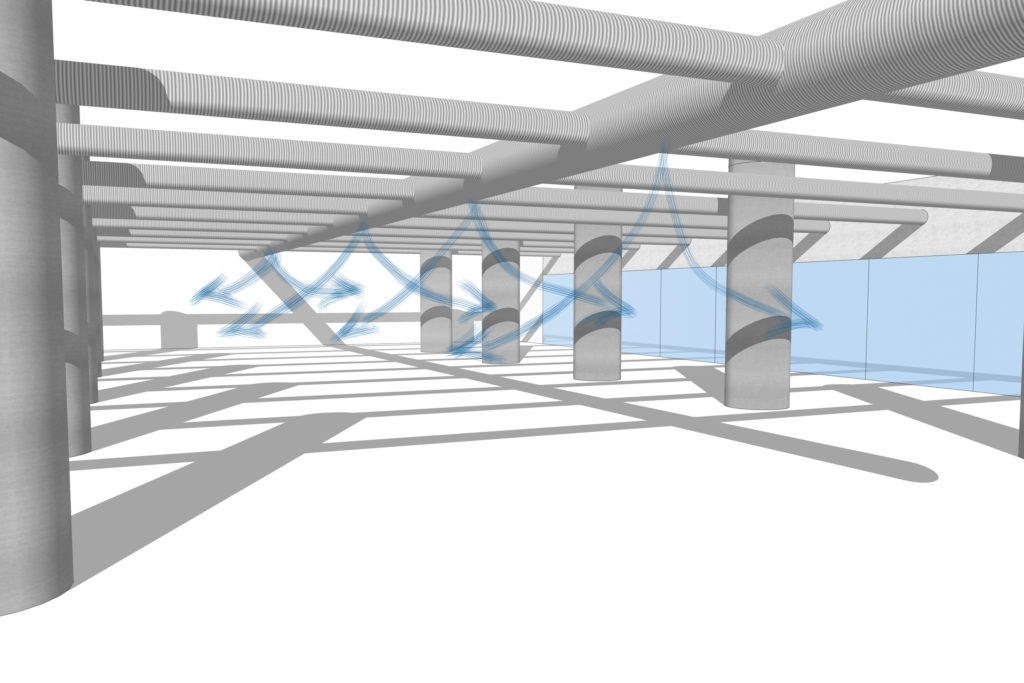 Cleanroom design using CFD simulation
A cleanroom is a facility designed to achieve and maintain extremely low levels of particulates. Cleanrooms are used in semiconductor manufacturing, biotechnology and other fields that are very sensitive to environmental contamination. Operating theatres in hospitals are also similar to cleanrooms. The air from outside is filtered before the cleanroom and internal air is also constantly recirculated and filtered through HEPA (high-efficiency particulate air) or ULPA (ultra-low particulate air) filters to remove internally generated contaminants.
Cleanrooms are classified according to the number and size of particles permitted per volume of air. Light-scattering airborne particle counters are used to determine the concentration of airborne particles equal to and larger than the specified sizes.
ISO 14644-1 and ISO 14698 are non-governmental standards developed by the International Organization for Standardization (ISO). The former [1] applies to cleanrooms in general; the latter to cleanrooms where biocontamination may be an issue. ISO standards specify the decimal logarithm of the number of particles 0.1 µm or larger permitted per m3 of air. So, for example, an ISO class 5 cleanroom has at most 105 particles/m3.
Computational Fluid Dynamics (CFD) allows engineers to visualize flow patterns, particle concentration and temperature distribution inside a cleanroom. Simulation are utilized to quickly and efficiently test and improve different design solutions.
Data from CFD simulations also allow to accurately evaluate the effectiveness of a cleanroom by calculating the values of a series of indices that characterize the mixing behavior of air and the distribution of contaminants within a space. Two among the most widely used indicators are the Air Change Efficiency (ACE) and the Contaminant Removal Effectiveness (CRE). The Air Change Efficiency (ACE) is a measure of how effectively the air present in a room is replaced by fresh air from the ventilation system [2]. The Contaminant Removal Efficiency (CRE) measures how efficiently a contaminant is removed at certain location . This parameter is usually evaluated for an occupied zone of the cleanroom.
References
[2] Sandberg M and Skaret E (1985) Air change and ventilation efficiency – new aids for HVAC designers. Swedish Institute for Building Research.
BuildWind employs advanced CFD models to determine the impact of potential fires and smoke on various building designs. Simulations can accurately calculate the growth of a fire and the development and dispersion of smoke inside and around a building.
By analyzing the results of simulations, building designers can understand and evaluate the impact of fire and smoke on structures and human occupants and improve design to reduce risk, limit damage and ensure safe access for fire fighters. Also, CFD is often the only way to prove that projects with complex and unique architectural features are safe and meet the requirements of safety codes.
Simulating fire and explosion scenarios is an important stage of building design. The results can demonstrate that smoke management and fire suppression systems are able to ensure the safety of occupants and preserve the structural integrity of the building.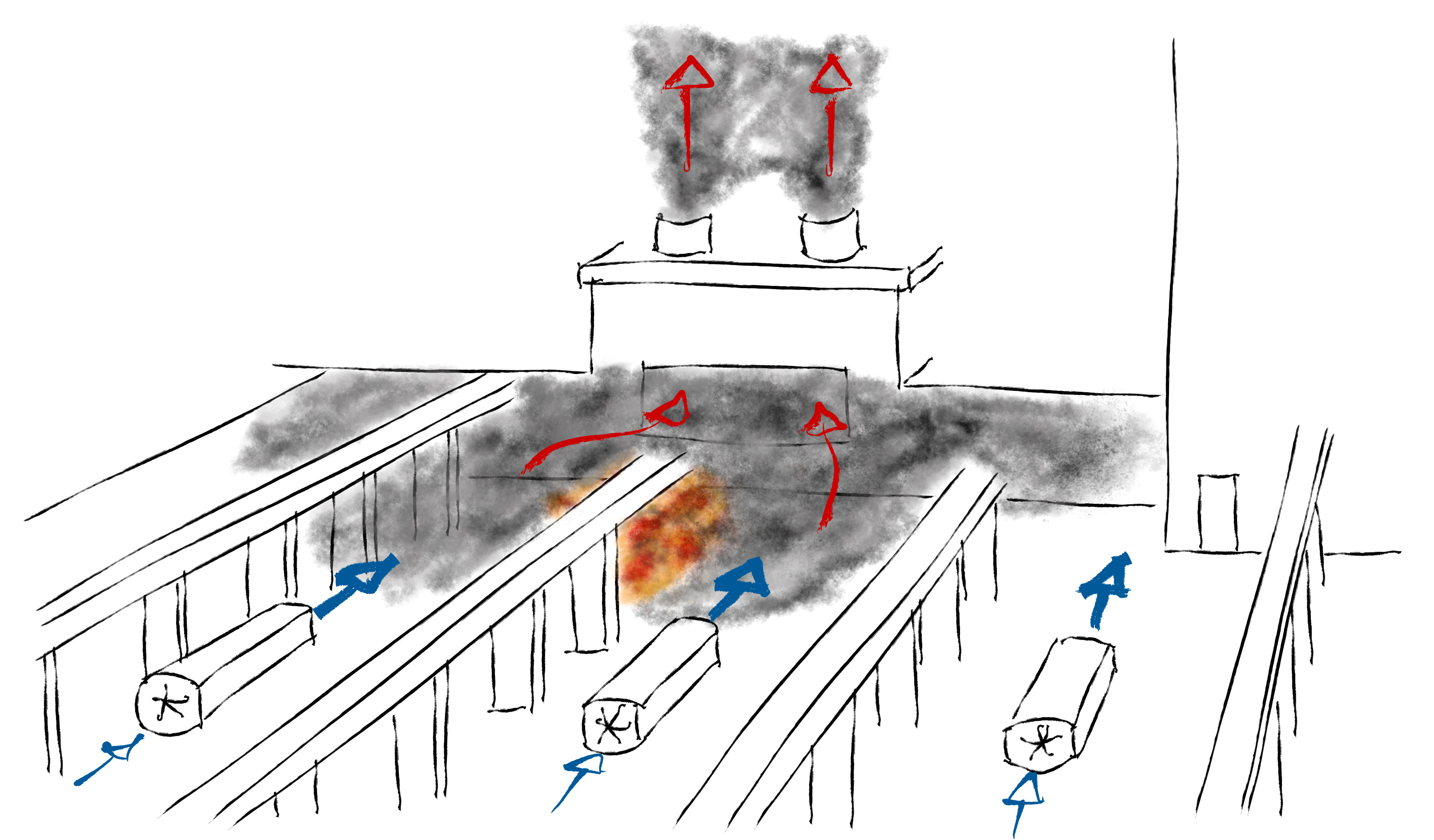 BuildWind performs fire and smoke simulation using FDS (Fire Dynamics Simulator) software, a computational fluid dynamics code specifically developed to simulate smoke and heat transport in fire-driven fluid flows. It numerically solves a time-dependent form of the Navier-Stokes equations appropriate for low-speed, thermally-driven flow on a three-dimensional grid. Thermal radiation is computed using a finite volume technique and Lagrangian particle tracking is used to simulate smoke movement, sprinkler discharge and fuel sprays.
FDS has been developed and extensively validated to solve practical problems in fire protection engineering and can be effectively used in applications such as transport of heat and combustion products from fire, heat transfer between the gas and solid surfaces, sprinkler, heat detector, and smoke detector simulation. FDS is intended for use only by those competent in the fields of fluid dynamics, thermodynamics, heat transfer, combustion, and fire science, and is intended only to supplement the informed judgment of the qualified user. Sufficient evaluation of any model is necessary to ensure that users can judge the adequacy of its technical basis, appropriateness of its use, and confidence level of its predictions.
FDS is provided by the National Institute of Standards and Technology (NIST) of the United States Department of Commerce and it is currently maintained by the Building and Fire Research Laboratory (BFRL) of National Institute of Standards and Technology. The developers at NIST have formed a loose collaboration of interested stakeholders, including VTT Technical Research Centre of Finland, the Society of Fire Protection Engineers (SFPE), Engineering departments at various universities and fire protection engineering firms that use the software.
According to the International Energy Agency, the building sector consumes nearly one-third of global final energy consumption (i.e., the sum of consumption by the different end-use: buildings, industry, transport and agriculture), making it responsible for about one-third of total direct and indirect energy-related CO2 emissions.
Sustainable development consists in ensuring future generations to have the same resources that we have today and maintain the desired environmental standards and quality of life.
Urban planning and design methods to achieve sustainability aim to create buildings and areas that are as neutral as possible by reducing their net environmental impact. Sustainable design criteria in the building industry involve topics such as natural ventilation, envelope performance, microclimate and internal air quality.